TealAlias Plus
1.21
Free up memory and make the most of external expansion cards. Placeholder 'Alias' shortcut files automatically find, load, and launch apps and data from external SD cards, increasi
Last update
20 Mar. 2006
Licence
Free to try |

$19.95
OS Support
Mobile
Downloads
Total: 240 | Last week: 0
Ranking
#190 in Utilities
Publisher
Tealpoint Software
TealAlias Plus Publisher's Description
Makes the Most of Expansion Memory: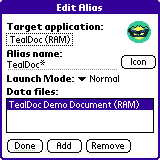 Aliasing Files
Free up memory and make the most of external expansion cards with TealAlias shortcuts. Placeholder 'Alias' files automatically find, load, and launch apps and data from external SD cards, increasing available main memory.
Similar to Windows "shortcuts" or MacOS "aliases", TealAlias aliases take up very little space, and can free up main memory by loading both apps and their data files from VFS-compatible external cards only when needed.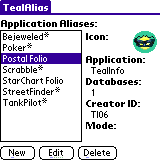 Feature Highlights

Automatically load card-based data like docs, maps and dictionaries
Launch card-based apps from any folder
Launch documents directly from launchers
Adds card support to third party and popup launchers
Adds category support to card-based apps
Adds ability to place apps in multiple categories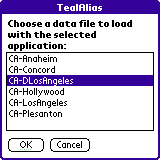 Special Functionality
TealAlias can also be used to add card support to launchers or programs which require their data be resident in main memory, or to allow card-based applications to be placed in launcher categories. Lastly, TealAlias can be used to provide icon and launcher support to individual document files, automatically launching supporting applications to open up specific documents with a single tap. TealAlias is PalmOS 5 compatible, and supports both Sony and Palm full screen and landscape (rotated display) modes.

- "Fabulous" -
TealAlias is a fabulously useful tool. TealAlias is something every serious Palm user should investigate.
PalmTop User magazine
- "Easy-to-use, inexpensive" -
TealAlias is an easy-to-use, inexpensive program to manage and launch programs and files on your memory cards. If you have run out of memory on your PDA, move your files to cards and get TealAlias.
Bargain PDA

BONUS: A special for Handango, this enhanced bundle includes TealPoint VersionMaster for PalmOS. A $10 value, VersionMaster effortlessly tracks all your TealPoint applications, finding, downloading and installing new updates, when available.

A leading provider of software solutions for handheld devices, TealPoint Software currently offers 27+ productivity products for the PalmOS platform. Selections include TealDoc, the superior document reader, TealMovie, the award-winning multimedia player, TealAuto, the complete vehicle service and expense log, TealPhone, the replacement address book, and TealLock the definitive PalmOS security solution.


Take advantage of TealPoint's Free 30-Day Trial Policy on all products.
Look for Similar Items by Category
Feedback